The pool pump—the heart of the pool's circulation system.
Pentair Pool WhisperFlo-High Performance Pump
Simply the most efficient and quietest pump you can buy Maximum circulation efficiency at the lowest operating cost. Long trouble-free life. Minimal maintenance. WhisperFlo, the incredibly quiet, incredibly reliable pool pump outperforms the competition by every measure. Additional features include:
Oversized strainer basket utilizes durable, flexible material for long life.
Unique FunneIFlo diffuser and high-efficiency Impeller maximize water flow and energy efficiency while minimizing turbulence and noise.
WhisperFlo is made with high-temperature, engineered thermoplastic to withstand extreme heat and prevent corrosion
Energy efficient motor features commercial grade frame, rust-proof stainless steel shaft, and permanently lubricated, sealed bearings for longs, trouble-free life.
Available in single- and two-speed modes.
Pentair IntelliFlo High Performance Pump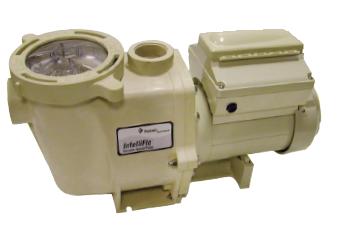 The new IntelliFlo delivers a level of cost-efficiency previously unheard of in swimming pool pumps. That's because of a revolutionary new motor and built-in microprocessor that programs IntelliFlo to work at that exact level – and no harder. The result is savings in energy consumption up to 90%…or more!
Featured Highlights
Uses 1/10th of the horsepower of other pumps or about 100 watts of electricity – other pumps typically operate at 2600 watts
Super quiet – produces just 7-10 decibels – about half the sound of a whisper
Tells you when your filter is dirty and needs to be cleaned
Features built-in blockage detection and safety shut-off along with totally enclosed design, assuring long equipment life
Senses loss of prime, overheating, freezing temperatures and voltage irregularities, and automatically adjusts to protect itself from potentially harmful conditions
Pentair Pool Clean and Clear (Cartridge Systems)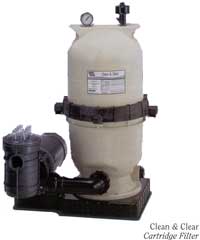 Clean & Clear Aboveground Cartridge Filter Systems
Perfect for use in residential or commercial pools and spas. the Clean & Clear Cartridge Filter System stands up to harsh pool chemicals and environmental elements, thanks to its chemical resistant fiberglass reinforced polypropylene tank. The innovative lock ring design fully engages and locks with just 1/3 of a revolution-making it much easier to use than other split tanks. Plus, its careless cellular media design makes cleaning a snap.
* Unionized connections for easy plumbing hook-ups.
* High Flow"' manual air relief valve and continuous infernal air relief work together to eliminate air accumulation.
* Lock ring with spring-Loaded safety latches prevents accidental disengaging of ring and possible tank separation.
* Careless cartridge simplifies the cleaning process
* One-inch drain and washout for ease of maintenance.
* Single-piece base and body design.
Pentair Pool Warrior™ Filter Systems (D.E)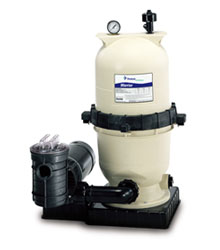 The WARRIOR'S exclusive grid design promotes automatic regeneration during the off cycle, so you can spend more time enjoying your pool and less time maintaining its filtration system.
The WARRIOR system is available in 44 and 66 GPM models to meet the filtration requirements of any aboveground pool. All systems are equipped with unions and hose kits for simple hookups.
Additional features include:
* Automatic D.E. regeneration
* No-tools servicing
* Injection molded thermoplastic tank is strong and durable.
* Lock ring with spring-loaded safety latches ensures secure closure of tank halves.
* Exclusive grid design for easier maintenance and longer filtration runs between cleanings.
* 1″ drain opens without tools for fast and easy servicing and winterizing.