Established in the 1980's by Frank Russo, Family Pools, Inc. has the experience & commitment to give your pool & deck area the custom look you desire. We are family owned & operated. Our company and all its affiliates are fully licensed & insured as required by the State of Florida & all counties we provide services in. We stand behind our lifetime, 5, 10 & 20 year manufacturer's warranties on our products & services. Family Pools, Inc. has diligently worked for many years providing exceptional customer service & breathtaking remodels & renovations having earned the reputation of being a "Top Rated " contractor in the industry.
When you contract Family Pools, Inc. that is who you get; we eliminate the middle man by using only the most skilled in house technicians to perform the work you requested and paid for, ensuring the highest quality workmanship possible.
Family Pools Inc.has a brick and mortar location in the business district of Port Saint Lucie. We also have a mobile showroom that comes to your residence with samples and estimates.
Family Pools, Inc. is a company that was built on honesty, integrity & customer service rather than the bottom line profit. Despite our rapid growth, we remain committed to the philosophy that the customer comes first. While we plan to pay attention to every detail, during every phase of your project, and are always willing to answer any questions or concerns you may have during that time, our "customer comes first" philosophy extends far beyond the completion of your job. It is our intention to build a life-long relationship with every client, no matter how big or small the project is.
---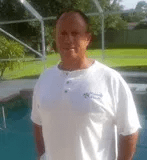 Frank Russo – President
Frank Russo is the founder of Family Pools, Inc. He oversees the entire corporation – HANDS ON. This means you will see him on your job inspecting, supervising and ensuring quality control. With 20 years of experience; working from the bottom up, Frank Russo understands what it means to provide quality & customer service. He involves himself in every aspect & phase of the company & projects using his expertise to guarantee your renovation will be that of your dreams.